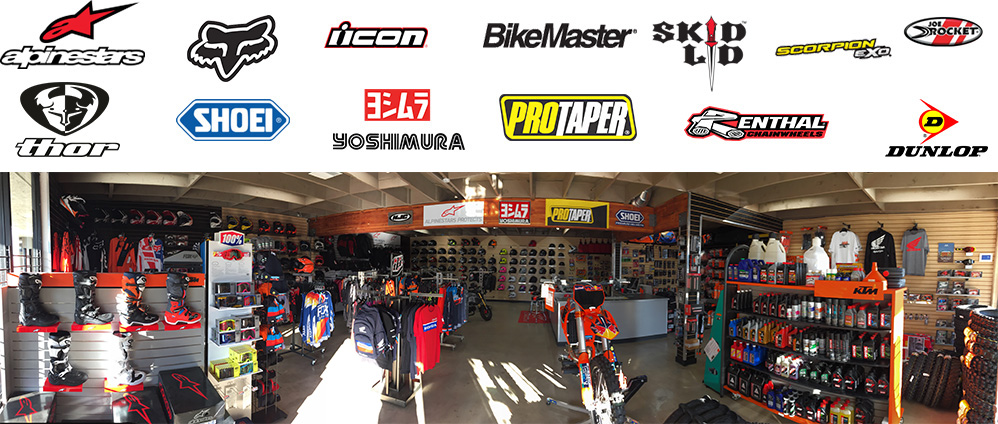 ---
San Diego Motorcycle Accessories & Gear
MOTORCYCLE HELMETS
We stock many different styles and types of motorcycle helmets. We offer a large selection of off-road, sportbike, cruiser, scooter, and ATV / UTV conversion helmets. Some of the more popular brands we provide are Shoei helmets, HJC helmets, Scorpion helmets, Icon helmets, Fox helmets, Fly helmets, and Bell helmets. If we don't have it in stock we promise to get it fast and can even ship it directly to your house. We guarantee competitive pricing and if by chance you find a better price please bring it to our attention and we will do our best to ensure your satisfaction. Check out our San Diego Accessories Store.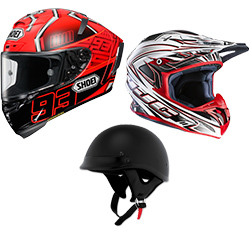 MOTORCYCLE JACKETS & JERSEYS
Poway Powersports has you covered both on and off the road. Whether you need to get suited up in an Alpinestars leather jacket on the street or comfortable in the dirt with the newest Fox riding jersey we can help. With the input from many riders we have compiled a great assortment of brands like Icon jerseys, Thor jerseys, Alpinestars Jackets, Fox Jerseys, Fly Jerseys, Joe Rocket Jackets, and HJC Jackets to offer you competitive deals on the hottest brands. Let our professionals get you fitted and show you we have what it takes to be your first choice powersports accessories shop in San Diego.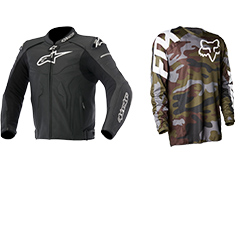 MOTORCYCLE GLOVES
With so many choices to protect your hands our selection of gloves will show you how much we care about your fingers. The right pair of gloves can help with fatigue on the dirt and comfort on the street. The wrong pair can leave your wrists numb, your hands cold, or your palms scraped. We can help you find the right pair for all of the different riding styles out there. We stock a selection of on and off-road motorcycle gloves at our San Diego Motorcycle Accessories shop.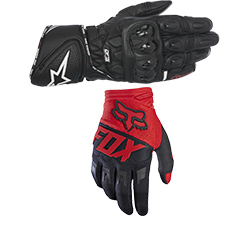 MOTORCYCLE BOOTS
Many riders know that wet soggy socks suck. Keeping your feet and ankles protected is important when you are flying down a desert trail or speeding on the freeway. We have many brands that can help you obtain comfort, a better feel of your bike, protection, and height if you need it. Some of the brands we represent are Fox Motorcycle Boots, Alpinestars Motorcycle Boots, SiDi Motorcycle Boots, MSR Motorcycle Boots, Joe Rocket Motorcycle Boots, Tour Master Motorcycle Boots, Thor Motorcycle Boots, Fly Motorcycle Boots, and Oneal Motorcycle Boots. See us for awesome brands and affordable pricing at our San Diego Motorcycle Accessories shop.