2017 KTM 1290 SUPER ADVENTURE R
2017 KTM 1290 SUPER ADVENTURE R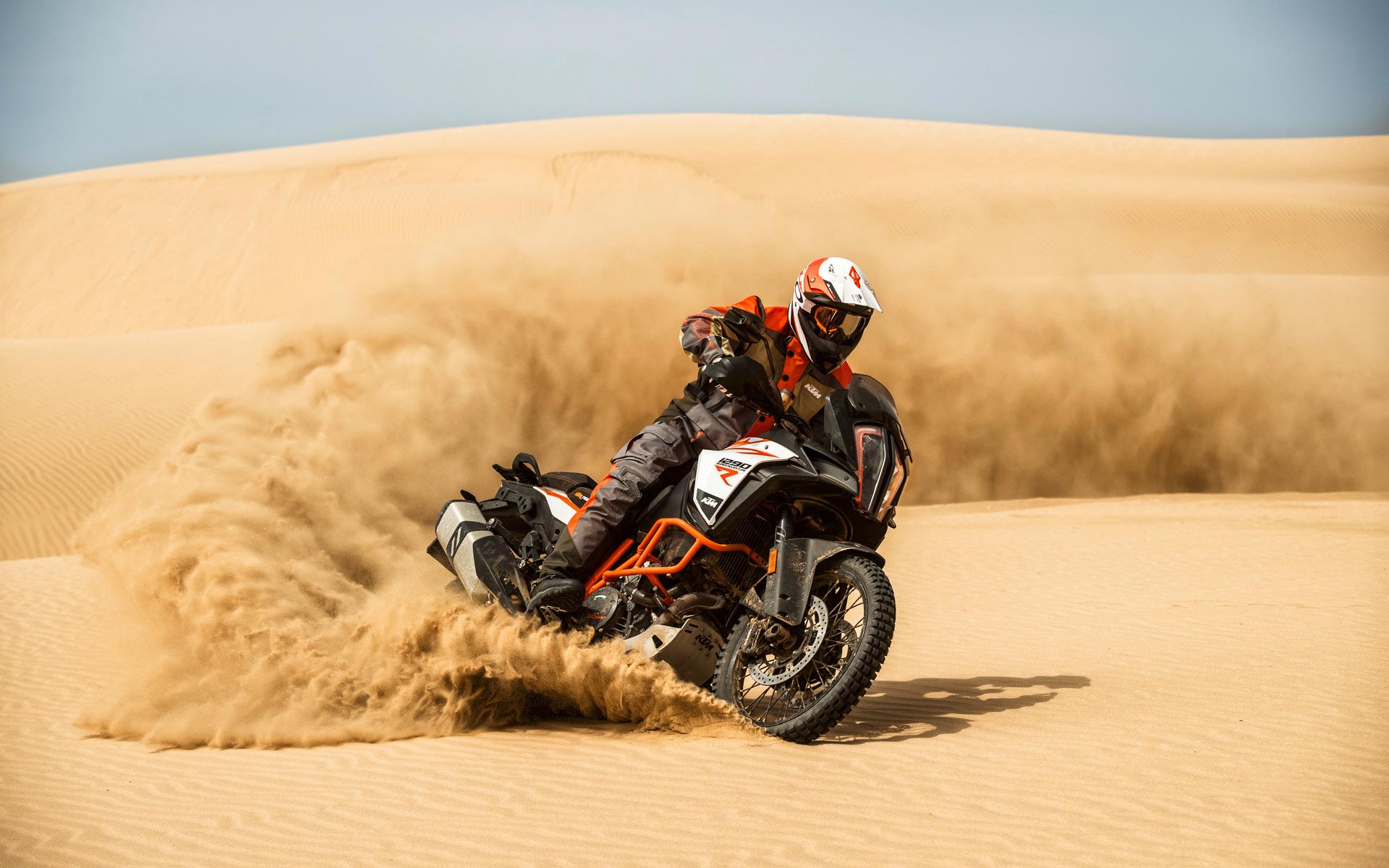 True adventure takes guts, so KTM's rally experts brought out the big guns and packed 1.301cc, 140 Nm of torque and 160 hp into the world's most advanced Travel Enduro chassis. This makes for a mile-munching omnivore, ready to carve its name into any terrain – the tougher, the better. It is our most extreme ADVENTURE ever, full stop. Full throttle.
CHASSIS

In adding the 'R', we add a promise: excellent offroad abilities. So you get a 21 inch wire-spoked wheel at the front, 18 inch at the rear, floating on 220 mm of fully adjustable WP suspension. On top of that, KTM's signature tubular trellis frame, steel crash bars and a high strength, die-cast, open-lattice swingarm are more eager than ever to earn their stripes. And that's just the chassis side of things.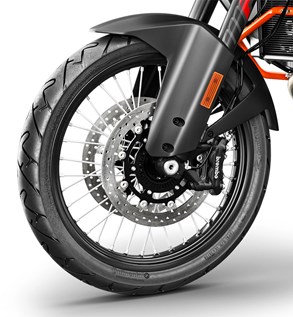 TIRES

Those who want to ride off into the unknown will find a wide selection of suitable tires for the KTM 1290 SUPER ADVENTURE R's wheel dimensions. But you might as well start that trip right off the dealer floor: the Continental TKC 80 tires, sized 90/90-21 and 150/70-18, are durable, versatile and grin when you take them off the beaten track.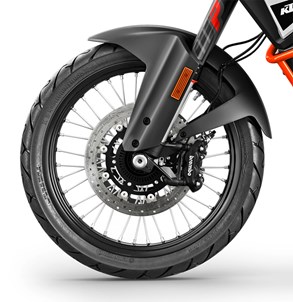 WHEELS

Offroad standards demand suitable tools, so we fit the KTM 1290 SUPER ADVENTURE R in-house with our patented, tubeless, wire-spoked 21″/18″ wheels. They combine all the benefits of a tubeless tire (easy fitting and dynamic advantages due to the lack of an inner tube) with the stability and robustness of a wire-spoked wheel. This set-up makes the SUPER ADVENTURE R's rims substantially more resilient than all the competition's cast and spoked wheels. You'll see.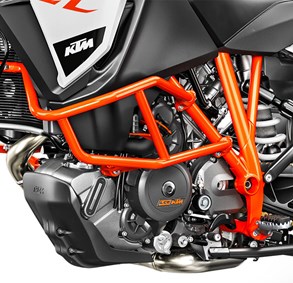 FRAME

The chrome-molybdenum steel trellis frame makes a major contribution to the bike's excellent chassis geometry. It's a rugged, laser-cut, robot-welded thing of beauty with a glorious surface finish. And at only 9.8 kg, it helps to keep the total, unfueled weight at a spectacular 217 kg. All muscle, no fat.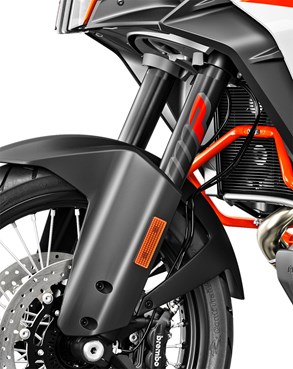 SUSPENSION

A robust 48 mm UPSD fork with extra stiff springs in the front, a PDS shock absorber in the rear. All made by WP, all fully adjustable, all happy to take a serious beating. And they'll make you enjoy it too. Suspension travel: 220/220 mm.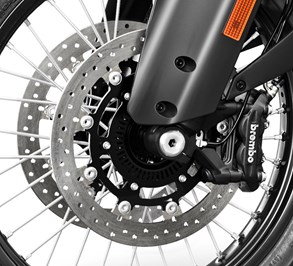 BRAKES

Precise. Powerful. Stunning. Just as you would expect from a set of Brembo brakes. Up front you'll find twin 320 mm discs, radially mounted, 4-piston fixed calipers and a radial master cylinder. At the rear, excess speed is taken care of by a generously dimensioned 267 mm disc. And in case of an emergency, Bosch's two-channel 9ME C-ABS speeds to the rescue.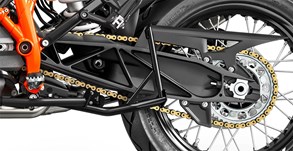 SWING ARM

The die-cast, open-lattice swingarm is not only particularly light, it's also precisely manufactured. The design has been optimized for stiffness and stability while still offering excellent flex characteristics.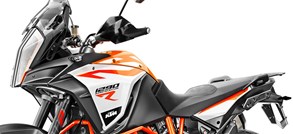 ERGONOMICS

At KTM, individualists are welcome. The bike's ergonomics can be adjusted to suit the preferences and stature of any rider, wherever they may roam: Two handlebar clamping positions: horizontal +/- 10 mm, Two footpeg positions: 10 mm up and back (diagonally), Hand levers with 5 reach settings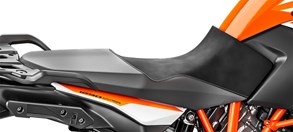 SEAT

This is where you'll – hopefully – spend a lot of time, so the seat has to provide support, feedback and freedom of movement. Thanks to KTM's state-of-the-art 3D foam padding, the KTM 1290 SUPER ADVENTURE R has your back. No matter if you ride it to the local shops or the ones across the Sahara, both rider and passenger will get there in comfort.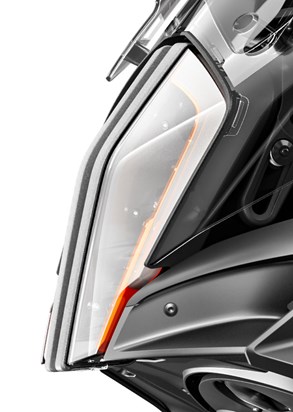 MULTIFUNCTIONAL LED HEADLIGHT

Form and function are integrated beautifully in the 1290 R's design. Take this headlight, for example. The central aluminum part holds the LEDs and keeps the unit cool. It is flanked by two more LED strips: the daytime running lights. Another set of LED cornering lights round things off at the bottom. They use the lean angle sensor of the MSC system to adjust their intensity in real-time. Unlit corners? A thing of the past. With a KTM 1290 SUPER ADVENTURE R, the future is bright.