2018 KTM 1090 ADVENTURE R
2018 KTM 1090 ADVENTURE R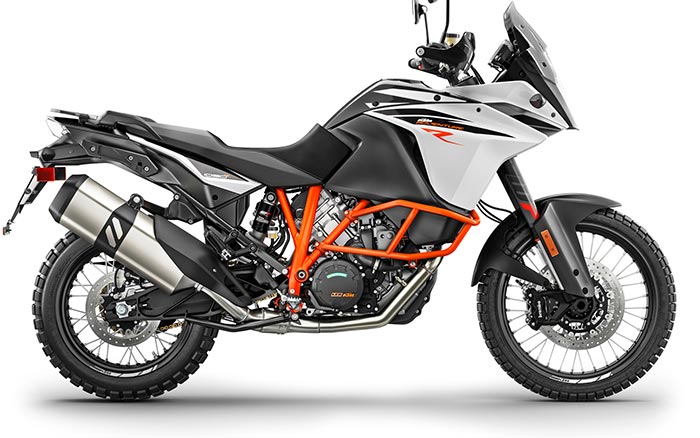 The KTM 1090 ADVENTURE R stares down anything in its path. Bespoke WP suspension, offroad wheels and a tough yet fuel-efficient engine are ready to rumble. Decades of rally raid victories roar within. As shrewd as it is chiseled, this bike uses the same state-of-the-art technology as the KTM 1290 ADVENTURE R and even though its engine capacity is smaller, it's still big on power: 125 hp (92 kW). That's 23 more than Fabrizio Meoni's Dakar winning 950. The world is yours – Devour it.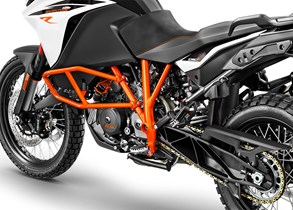 CHASSIS

In adding the 'R', we add a promise: excellent offroad abilities. So you get a 21 inch wire-spoked wheel at the front, 18 inch at the rear, floating on 220 mm of fully adjustable WP suspension. On top of that, KTM's signature tubular trellis frame, steel crash bars and a high strength, die-cast, open-lattice swingarm are more eager than ever to earn their stripes. And that's just the chassis side of things.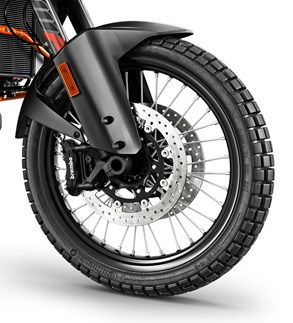 WHEELS AND TIRES

Offroad standards demand suitable tools, so we fit the KTM 1090 ADVENTURE R in-house with our patented, wire-spoked and tubeless 21″/18″ wheels. Those who want to ride off into the desert will find a wide selection of suitable tires in these dimensions. But you might just as well start that trip right off the dealer floor; the standard Continental TKC 80 Twinduros, sized 90/90-21 and 150/70-18, are durable, versatile and very happy to take you off the beaten track.
POWER-TO-WEIGHT-RATION

The combination of lightweight chassis engineering and a compact but powerful engine take the KTM 1090 ADVENTURE R to the top of its class in terms of power-to-weight ratio and ride dynamics. Its weight of only 230 kg, while carrying a substantial 23 liters of fuel, makes the KTM 1090 ADVENTURE R – in typical KTM style – one of the lightest motorcycles in its segment. Add an outstanding geometry, well-balanced stiffness distribution and high quality suspension components and you end up with a bike that can handle almost anything. This also boosts safety, since it is far easier to fling a lightweight, nimble motorcycle around a source of danger than a heavy one.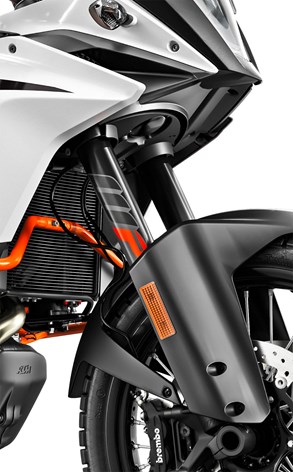 SUSPENSION

A robust 48 mm UPSD fork with extra stiff springs in the front, a PDS shock absorber in the rear. All made by WP, all fully adjustable, all happy to take a serious beating. And they'll make you enjoy it too. Suspension travel: 220/220 mm.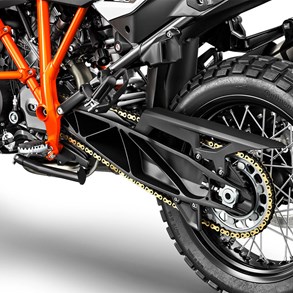 SWINGARM

The die-cast, open-lattice swingarm is not only particularly light, it's also precisely manufactured. The design has been optimized for stiffness and stability while still offering excellent flex characteristics.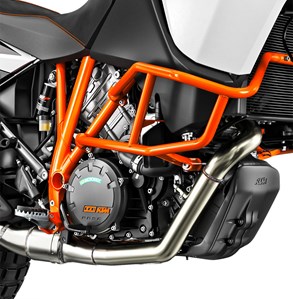 FRAME

The chrome-molybdenum steel trellis frame makes a major contribution to the bike's excellent chassis geometry. It's a rugged, laser-cut, robot-welded thing of beauty with a glorious surface finish. And at only 9.8 kg, it helps to keep the total, unfueled weight under 210 kg. 207, to be precise. Every kg counts.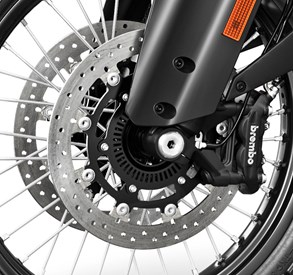 BRAKES

Precise. Powerful. Stunning. Just as you would expect from a set of Brembo brakes. Up front you'll find twin 320 mm discs, radially mounted, 4-piston fixed calipers and a radial master cylinder. At the rear, excess speed is taken care of by a generously dimensioned 267 mm disc. And in case of an emergency, Bosch's two-channel 9M+ ABS is there to save the day.