2018 KTM 250 SX
2018 KTM 250SX
The KTM 250 SX has one of the best power-to-weight ratios in the world of dirt, forming the ultimate punch against more complex 4-stroke rivals. With the grunt to devour all sorts of tracks and terrains, and a lightweight chassis keen to skim the surface, this masterpiece of KTM's R&D and Motorsport departments is born to lead the next pack of winners that prefer premix.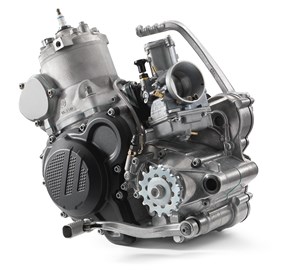 ENGINE
The engine of the KTM 250 SX has been known and respected for being the most powerful 2-stroke engine in its class. 2-strokes really do have a future at KTM. Their outstanding power-to-weight ratio, low cost and simplicity see to that. The KTM 250 SX engine has been optimized for mass centralization, comes with a twin-valve controlled power valve, a balancer shaft for less engine vibrations, a 5-speed transmission and a hydraulically operated DDS clutch. This compact racer truly outshines the competition with its ripping performance and is the right choice for lovers of low purchase and maintenance costs. Oh, and of course don't forget that 2-stroke snarl when you're on the pipe.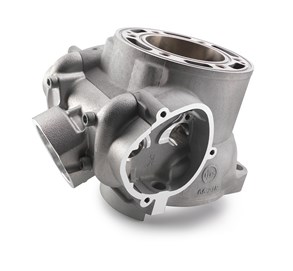 CYLINDER
The newly developed cylinder of the 250 SX – with a bore of 66.4mm – has all-new ports and is fitted with an overhauled power valve system. This system features a sophisticated mechanism for the lateral support exhaust ports, providing smooth and controllable power on tap. Furthermore, it's possible to change the bike's power delivery in seconds thanks to two supplied powervalve springs. Limitless settings for different tracks and preferences are up for grabs. Throw everything you have at it; new water jackets in the cylinder and head will take care of excess heat and reworked lateral cylinder head brackets allow a more efficient fixation of the engine to the frame via lightweight head stays. Yes, this is a serious piece of kit.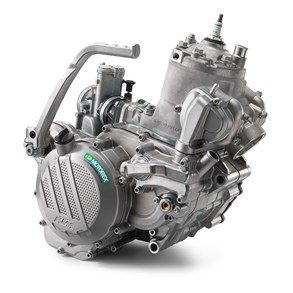 CRANKCASES
These all-new die-cast engine cases feature an 4mm higher clutch shaft and a 19.5mm higher crankshaft, resulting in better mass centralization and quicker handling. In addition, it allows the implementation of a counter balance shaft. So your ride will be as relaxed as it is rapid. Plus, your new favorite engine will keep looking as fresh as the day you bought it with redesigned engine covers featuring a smart surface structure in order to reduce the wear caused by the rider's boots.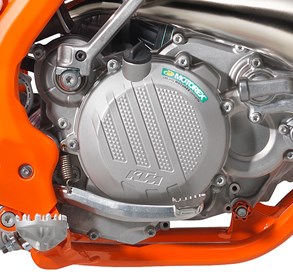 CLUTCH
The 250 SX employs the KTM-developed DDS clutch (damped diaphragm steel) with a wear-free steel basket and extremely heat resistant clutch plates. This clever design employs a diaphragm spring instead of the usual coil springs, making for considerably easier clutch action. A diaphragm spring also leaves sufficient space for a damping system to be integrated into the clutch hub. The goal is traction, but durability is as well. A lighter basket, a reworked inner hub and a pressure plate providing better oil supply and unsurpassed cooling up the longevity of the DDS clutch. Light operation and telepathic amounts of control are standard with this hydraulic Brembo actuated clutch.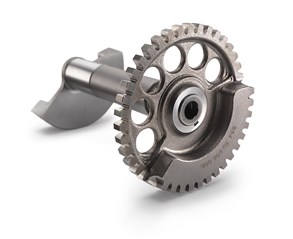 BALANCER SHAFT

Say goodbye to numb feet and hands. This engine design allows the implementation of a lateral balancer shaft in order to keep the vibrations to a minimum. You know what that means: more comfort, less fatigue, more racing.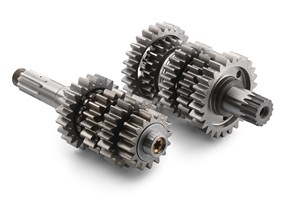 TRANSMISSION

A robust 5-speed transmission, its gear ratios perfectly in sync with the 250's power band. An advanced ´No Dirt´ gear shift lever design prevents mud and sand from jamming the joint of the lever and guarantees trouble-free shifting.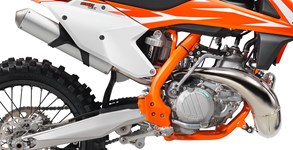 EXHAUST SYSTEM

The engineers meticulously tuned the resonator chamber for maximum torque and power, so this screamer is as tough as it is strong.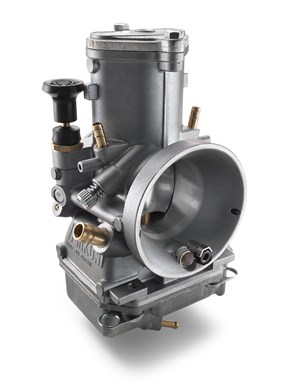 CARBURETOR

The KTM 250 SX is fitted with a MIKUNI TMX carburetor. This 38mm flat slide carb lives to provide smooth and controllable power all the way up to the rev limitation. With a new intake manifold the carburetor is turned 7° in order to reduce the overflow of fuel. And it's less sensitive to different altitudes and temperatures, so you can pin it wherever, whenever.
Engine
Design
1-cylinder, 2-stroke engine
Displacement
249 cm³
Bore
66.4 mm
Stroke
72 mm
Starter
Kickstarter
Transmission
5-speed
Primary drive
26:73
Secondary gear ratio
14:50
Clutch
Wet, DDS multi-disc clutch, Brembo hydraulics
EMS
Kokusan
Chassis
Frame design
Chrome-molybdenum steel central-tube frame
Front suspension
WP-USD, AER 48, Ø 48 mm
Rear suspension
WP shock absorber with linkage
Suspension travel (front)
12.2 inch
Front brake
Disc brake
Rear brake
Disc brake
Front brake disc diameter
260 mm
Rear brake disc diameter
220 mm
Chain
5/8 x 1/4″
Steering head angle
63.9 °
Seat height
37.8 inch
Weight READY TO RACE (without fuel)
210.32 lb.
Suspension travel (rear)
11.81 inch
Tank capacity (approx.)
1.85 US gal