2018 KTM 500 EXC-F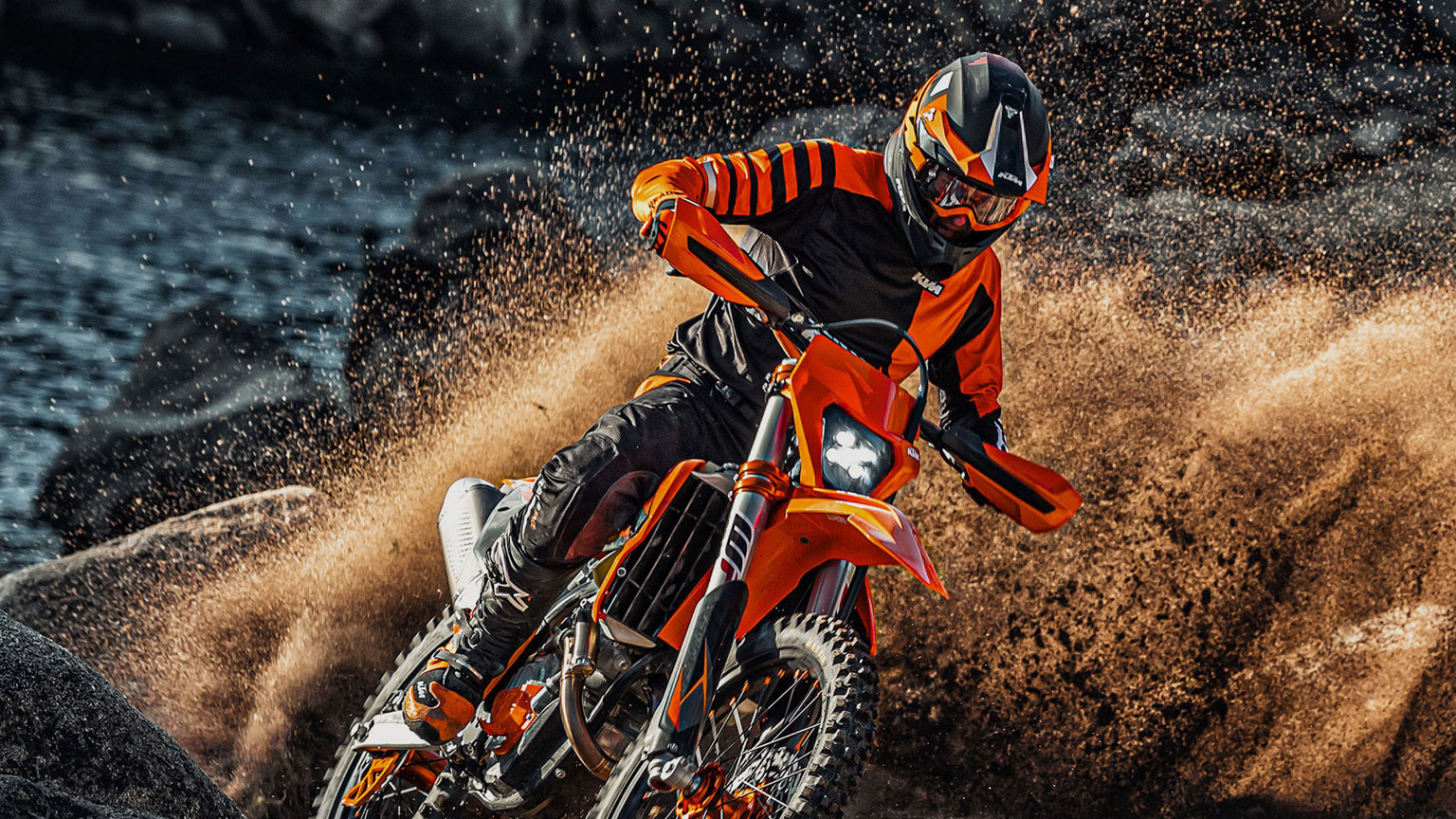 Stand back or hold on tight, this is the most powerful dual-sport on the market. The new generation KTM 500 EXC-F packs a thrilling 4-stroke punch while still delievring outstanding rideability. Thanks to a completely reworked chassis and its even more compact high-tech engine, this large-displacement power machine is surprisingly light with excellent agility. As a result, this awesome 510 cc SOHC single cylinder bombshell has an incredible power-to-weight ratio and provides nothing less than the most dynamic dual-sport experience available.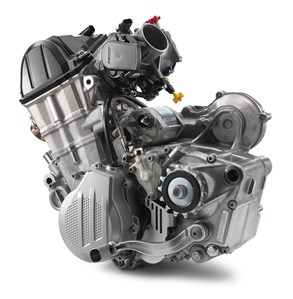 ENGINE
Small in dimensions, sky-high on output. The KTM 500 EXC-F's fuel-injected powerhouse makes it the most compact and lightest 500 on the market, while delivering groundbreaking torque and power figures over the entire rev range thanks to a single overhead camshaft cylinder head and the latest electronic fuel injection. Class-leading and cutting-edge: just the way we like it.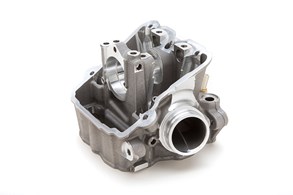 CYLINDER HEAD
A single overhead camshaft controls intake and exhaust through optimized ports, while a cutting-edge combustion chamber and water jacket create mind-blowing power while managing heat. The engine's four valves rely on extremely rigid rocker arms. Double lateral brackets fix the engine to the frame and reduce vibrations.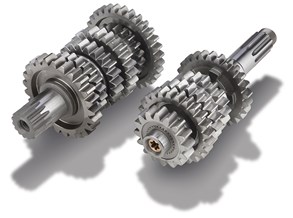 TRANSMISSION
The reliable 6-speed transmission features a special surface treatment on the 2nd, 3rd and 4th gears for solid reliability. The advanced ´No Dirt´ gear shift lever design prevents dirt from jamming the joint of the lever and guarantees precise shifting even in the muddiest conditions. For 2018 the transmission shaft gets a new bearing that has a bigger overlap in the cases. This means reliability even under extremely hard conditions. Think GP-level riding. In knee-deep sand. And a new, stronger shifting star made of MIM steel (metal injected molding) improves reliability even further.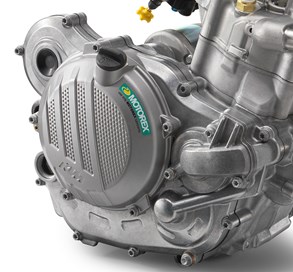 CRANKCASES AND ENGINE COVERS
The design of the die-cast crankcases allows for minimal weight and a very centralized shaft configuration. This makes the engine short and compact, while contributing to an efficient centralization of masses. The engine covers also feature a solid surface structure, which reduces the wear caused by the rider's boots. This way, your EXC-F will keep looking better longer.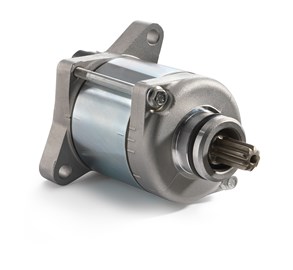 E-STARTER
The KTM 500 EXC-F is fitted with a unique E-starter as standard, which is a clear advantage when it comes to crunch time in the heat of battle. A strong starter motor and a reliable lithium ion battery will fire up your 500 time and time again at the push of a button. In order to reduce weight to the minimum, there is no kick-starter system. You won't miss it. If by any chance you do, just retrofit a KTM PowerParts replacement kit to get your kicks.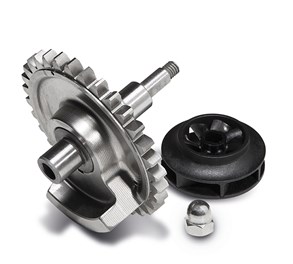 BALANCER SHAFT
To balance the mass forces, the KTM 500 EXC-F engine uses a multifunctional, side-mounted balancer shaft, which at the same time drives the water pump. It has been balanced to perfection, keeping vibration levels to a minimum, even while gunning it to the maximum.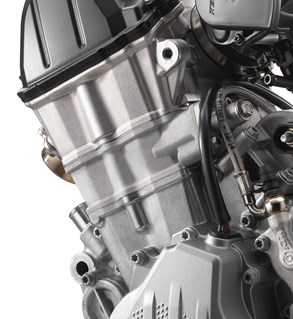 CYLINDER AND PISTON
Inside the cylinder, with a bore of 95mm, thumps a forged box-type piston with an ultra-light piston pin. Its crown geometry is adapted perfectly to the combustion chamber, where its rigid structure and low weight shine. Thanks to low oscillating masses, the engine is as smooth as it's powerful.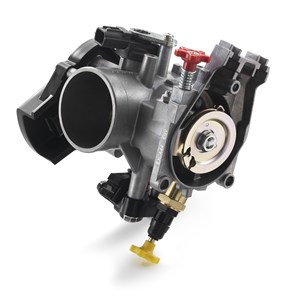 ENGINE MANAGEMENT SYSTEM
The state-of-the-art Keihin engine management system with electronic fuel injection features a 42mm throttle body. Thanks to its unique injector position, the engine's response gives a whole new meaning to the word 'instantaneous'. Separate circuits for cold-starting and idle make on-site adjustments easy. Push the throttle back when the engine is warmed up and the cold start mode disengages.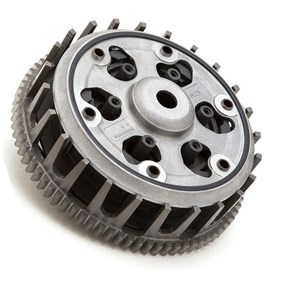 CLUTCH
The KTM 500 EXC-F employs the KTM-developed DDS clutch (damped diaphragm steel) with a wear-free steel basket and extremely heat resistant clutch plates and new, nitrated steel liners. This clever design employs a diaphragm spring instead of the usual coil springs, making for considerably easier clutch action. A diaphragm spring also leaves sufficient space for a damping system to be integrated into the clutch hub. The goal is traction, but durability is as well. Light operation and telepathic amounts of control are standard with this hydraulic Brembo actuated clutch.
CRANKSHAFT
The KTM 500 EXC-F's crankshaft utilizes a short connecting rod, which makes for an overall compact and lightweight engine with a snappy power delivery. A plain big (bottom) end bearing with two force-fitted bearing shells runs directly on the crank pin. The necessary oil feed for this bearing is ensured by the engine's pressurized lubrication. This design is a decisive benefit in terms of the crankshaft service interval, which can be lengthened due to the plain bearing. So just pin it, all day long.
We use our own and third party cookies in order to improve your experience and our service. With the aid of cookies we analyze the typical use pattern of visitors to the website. Your continued use of our website shall be conclusively deemed acceptance of the use of cookies. For further information please read our Privacy Policy.