2020 KTM 1290 Adventure R / S
2020 KTM 1290 ADVENTURE SERIES
Engine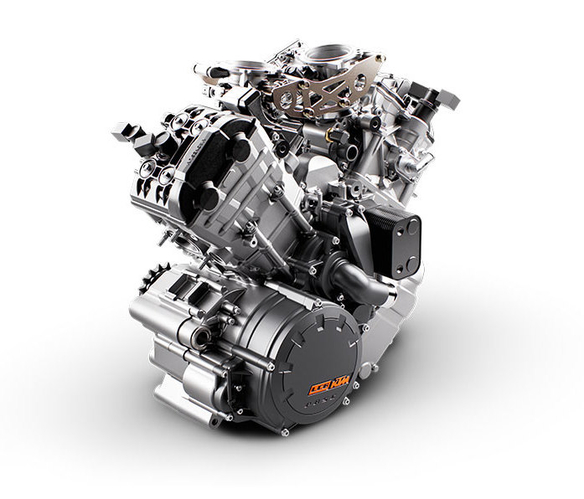 The 1301 cc V-twin engine packs one hell of a punch for fully loaded adventure tours. It has truckloads of torque from the bottom up and hardly ever needs hurried downshifts. With 160 hp and 140 Nm of torque on tap, the engine provides more than enough usuable grunt to happily eat up miles of dirt trails in the blink of an eye. A unique mix of the highest quality components combined with a fully developed and reliable engine allows extremely long service intervals of 15,000 km. That's a lot of adventures.
A key element in the smooth power delivery of the 75° V-twin is each cylinder's state-of-the-art 4-valve cylinder head. These combine twin plug ignition, flow-optimized ports and a slick low-friction valve drive train with cams from each cylinder's twin overhead camshafts driving DLC-coated cam followers.

The sixth gear serves as a long overdrive in the KTM 1290 SUPER ADVENTURE R's well-spaced gearbox. This saves fuel and adds to your cruising comfort.

Not only does the slipper clutch open when the engine back-torque becomes too high, it also assists when you open up the throttle. The former prevents destabilizing rear wheel chatter when braking sharply or decelerating; the latter reduces the lever force required for changing gears, allowing the clutch to be controlled with one trigger happy finger – saving you energy while riding.
The KTM 1290 SUPER ADVENTURE R's forged piston structure is derived from Formula 1 technology. The result is a high loading capacity despite its extremely short and lightweight design. Although they have grown in diameter by three millimeters, the pistons are 47 grams lighter. This way, reciprocating weight is minimized, for responsiveness and a playful engine nature. The piston skirts have an additional state-of-the-art, GRAFAL® finish. It further reduces friction and is particularly hard wearing.

DLC (Diamond-Like Carbon) is an extremely hard, durable coating used in many engine parts, such as cam followers, to assist sliding behavior. It improves performance and our engines love it!

The twin plug ignition system controls the two differently sized spark plugs in each cylinder head independently of each other. This results in more efficient combustion and a smoother, optimally controlled combustion sequence. What that means to you, is better-controlled power, lower fuel consumption, and reduced emissions.
Chassis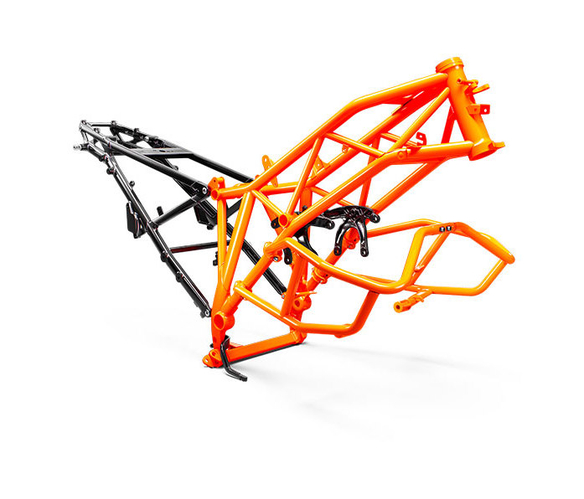 The chrome-molybdenum steel trellis frame is at the center of the bike's excellent robust chassis. Laser-cut and robot welded with a superb surface finish, it weighs a mere 9.8 kg (21.6 lbs), keeping the total unfueled weight at an impressively low 217 kg (478 lbs). All muscle, no fat.
The die-cast, open-lattice swingarm is not only particularly light, it's also precisely manufactured. The design has been optimized for stiffness and stability while still offering excellent flex characteristics.

The KTM 1290 SUPER ADVENTURE series are more than just light, powerful and dependable. Thanks to low fuel consumption, a 23-liter (6.1 gal) fuel tank and 15,000 km service intervals they also hardly ever needs to take a break.

A robust 48 mm inverted fork with extra stiff springs is mounted up front, while a PDS shock absorber produces the magic in the rear. All made by WP, all fully adjustable, all happy to take a serious beating. And they'll make you enjoy it too. Suspension travel: 220 mm front and rear.
With so much propulsive power, the front wheel can become very light, which can lead to unpleasant kick-back on uneven roads. The KTM 1290 SUPER ADVENTURE S prevents this with a subtle WP steering damper that will be there when you need it.

Precise. Powerful. Consistent. Just as you would expect from a set of BREMBO brakes. Up front you'll find twin 320 mm diameter discs, which are radially mounted, plus 4-piston fixed calipers. At the rear, excess speed is taken care of by a generously dimensioned 267 mm diameter disc. And in case of an emergency, BOSCH's two-channel 9M+ ABS is there to save the day.

Serious offroad exploration demands hardcore equipment, so we fit the KTM 1290 SUPER ADVENTURE R in-house with our patented, tubeless, wire-spoked wheels. 21 inches up front and 18 inches in the rear, they combine all the benefits of a tubeless tire (easy fitment and weight saving due to the lack of an inner tube) with the stability and robustness of a wire-spoked wheel. This set-up makes the KTM 1290 SUPER ADVENTURE R's rims substantially more resilient than all the competition's cast and spoked wheels.
Ergonomics & Comfort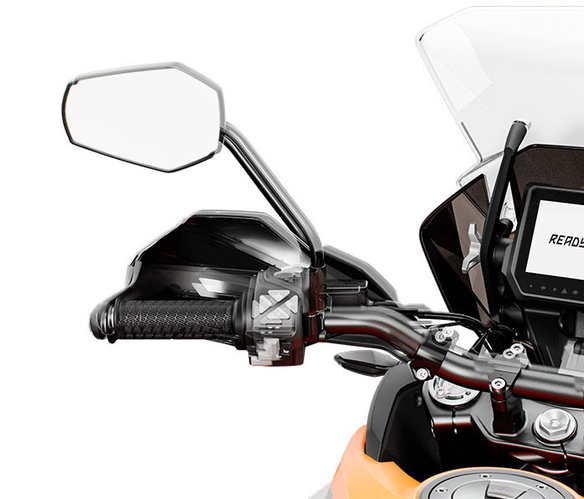 With two handlebar clamping positions: 10 mm forwards or backwards from stock; plus five reach settings of the hand levers, the rider has more freedom to set the bike up for greater control, and uncompromised comfort, which means a more satisfying adventure ride.
Different modes for the various assistance systems can be selected using a menu switch on the left side of the handlebar. It's very simple and intuitive: "up" and "down" through the menu selection, select the desired menu item with the left button, confirm it with the right. Plus you can make it even easier by personalizing your settings screens with two quick-select menus. Job done.

This is where you'll hopefully spend a lot of time, so the seat has to provide support, adequate feedback and freedom of movement. Thanks to KTM's state-of-the-art 3D foam padding, the KTM 1290 SUPER ADVENTURE has your backside covered for those long days in the saddle. When exploring far it's all about comfort for you and your passenger. In addition, you can choose between two seat positions, 860 mm or 875 mm (33.8 in or 34.4 in).

Illuminated switches don't only look good, you locate the most important buttons in the blink of an eye. At night.
Bodywork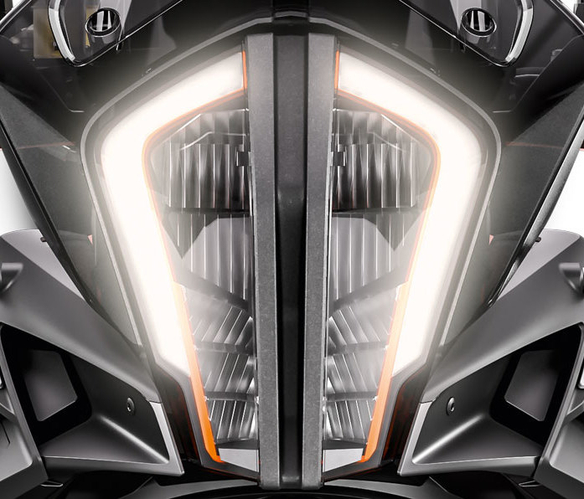 Form and function are integrated beautifully into the 1290 S's design. The headlight for example has a central aluminum section holding the LEDs, which keeps the unit cool. Two more LED strips – acting as daytime running lights – surround it. Another set of LED cornering lights round things off at the bottom. They use the lean angle sensor of the MSC system to adjust their intensity in real-time. Unlit corners? A thing of the past. With a KTM 1290 SUPER ADVENTURE S, the direction is clear.
Software & Electronics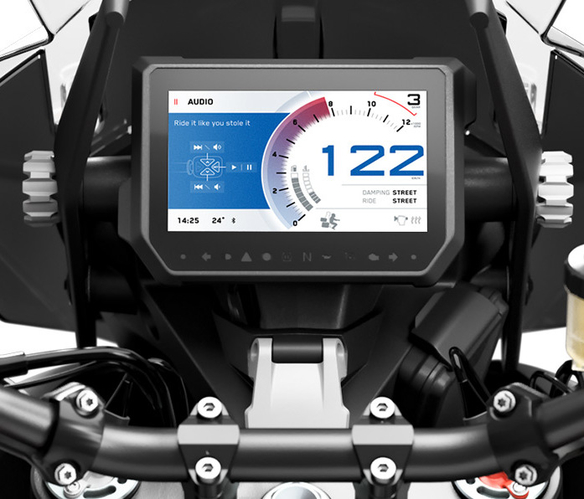 The KTM 1290 SUPER ADVENTURE gives riders all the necessary and desirable information on a state-of-the-art, clearly arranged 6.5-inch TFT display. Even in direct sunlight, vital data is displayed clearly and crisply thanks to its bonded, anti-glare surface made of a strong sheet of glass. In addition to obvious data (speed, revs, fuel level etc), the computer can show different ride modes, ambient air and oil temperature, onboard voltage, trip info, average speed, fuel consumption stats, plus range and distance to next service.
BOSCH's MSC assistance package is the world's first lean-angle sensitive cornering ABS system. It allows riders to always use the full power of their brakes while the system adjusts brake pressure to match the lean angle of the motorcycle, for more predictable braking across a wider range of conditions and scenarios. If required, not only can it be switched off, but also placed in "Offroad mode".

A convenient compartment keeps your smartphone safe on the road. It keeps it charged too, thanks to its integrated USB socket. The optional incoming call and audio functions link the phone to the bike via Bluetooth. It's always nice to let people know you absolutely have to take that enormous detour.

After 10 seconds of movement and 150 meters of riding distance, the turn indicator will stop automatically. When pressed again, it recounts from zero. A big improvement in terms of safety, as it is now impossible to forget to reset the indicators.
The standard cruise control is ultra convenient on long motorway journeys. Switches on the left side of the handlebar and a display in the TFT dashboard allow the rider to intuitively set and change the requested speed, so you'll arrive where the real fun begins with energy to spare.

The Motorcycle Traction Control (MTC) is a lean-angle sensitive system, which reacts in mere milliseconds the instant the rear wheel spins out of control. As smooth as it is quick, the system closes the throttle valves to regain grip for compelling yet completely controllable forward drive on all surfaces. The standard motorcycle traction control (MTC) offers four different ride modes – "Street", "Sport", "Rain" and "Offroad" – selected using the multi-functional switch on the left handlebar grip. Oh, and there's the off-switch for daredevils!

With the KTM MY RIDE system, a smartphone can be connected to the bike, which gives the rider the option of receiving phone calls, listening to music, and, using the optional app for navigation (further information available on www.ktm.com/my-ride).
Once this mode is engaged, the ride-by-wire limits the throttle response and peak power, putting you in full control wherever you take your bike. It also allows the rider to lock the rear wheel when required – a prerequisite for committed offroad riding and deliberately executed slides. The ABS function remains active on the front wheel, even in this mode.

The Offroad ABS mode allows the rider to lock the rear wheel as and when required – a prerequisite for committed offroad riding and deliberately executed slides or pivots. The ABS function remains active on the front wheel, but it intervenes later than on the street and builds up braking pressure in a different way to find grip on loose surfaces more easily.

Forget about ignition keys and mechanically locked fuel caps. All you need is the "keyless" transponder in your pocket.
Electronic rider aids provide more control, performance and enjoyment to the rider under a wider range of circumstances. The latest ABS and MTC (Motorcycle Traction Control) technology is designed to enhance your riding experience. Different ride modes are tailored for easy adjustment of the rider aid functions to suit a range of riding conditions. The simple adjustability of these features maximizes the powerful V-twin's innovative technology and equipment across a much wider range of terrain.

The Offroad TC mode allows up to 100% slippage – i.e. double rear wheel speed – for ambitious offroad use. Turn it on and master controlled drifts with ease.

As its name implies, the TPMS (Tire Pressure Monitoring System) monitors tire pressure (visible in the display) and warns the rider instantly of any pressure loss, whether sudden or gradual, whether tire damage or a valve leak.
Technical Details
TRANSMISSION 6-speed
COOLING Liquid cooled
POWER IN KW 118 kW
STARTER Electric starter
STROKE 71 mm
ABS Bosch 9ME combined ABS (incl. offroad mode, disengageable)
FRONT BRAKE DISC DIAMETER 320 mm
REAR BRAKE DISC DIAMETER 267 mm
CHAIN X-Ring 5/8 x 5/16″
FRAME DESIGN Chrome-molybdenum steel tubular space frame, powder-coated