HONDA AFRICA TWIN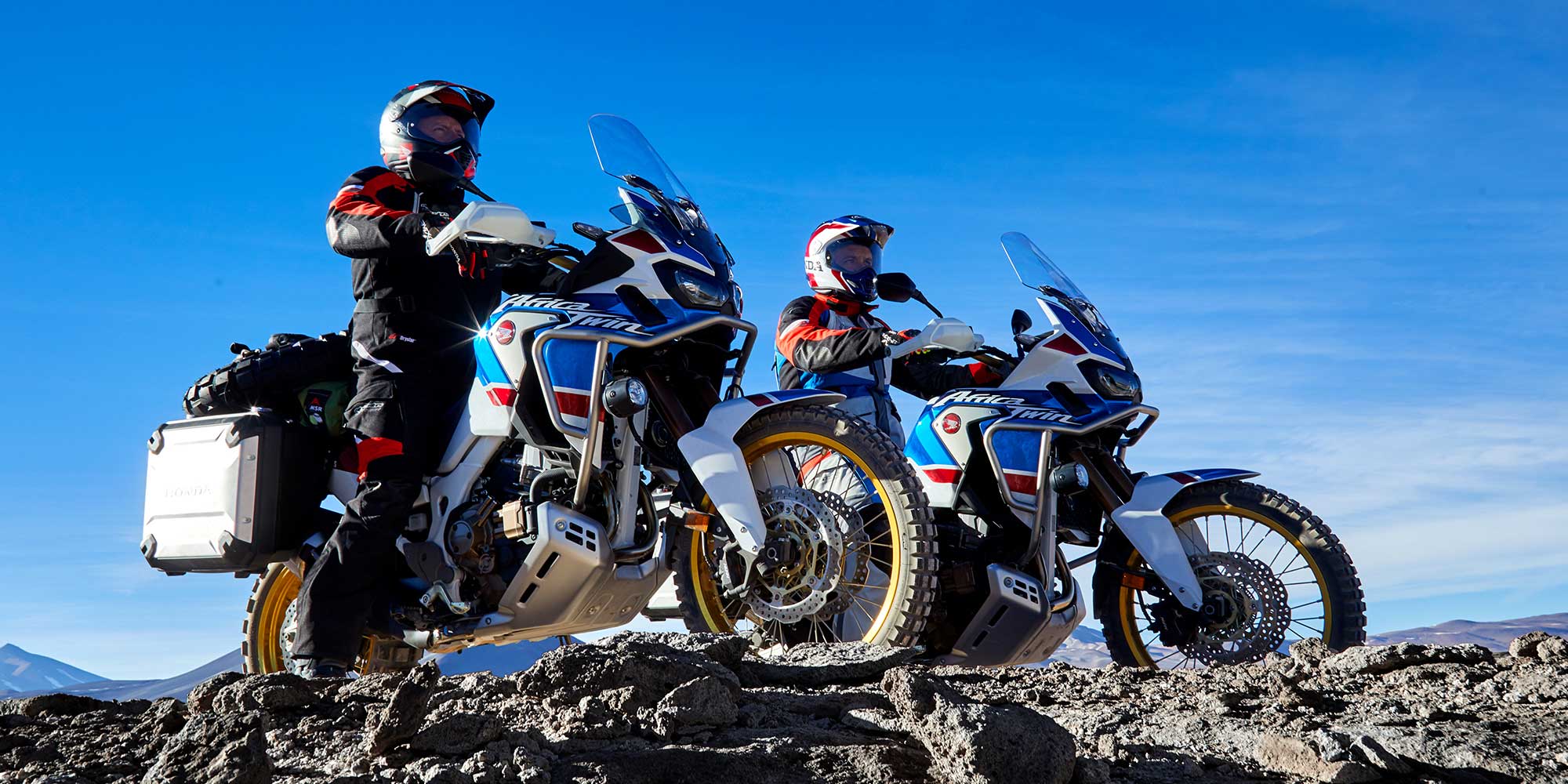 HONDA AFRICA TWIN
Features
Performance
Parallel-Twin Engine Layout
AFRICA TWIN ENGINE
The Africa Twin's parallel-twin engine layout makes the bike shorter front-to-back. That means the front wheel can tuck in closer to the engine, reducing the wheelbase and making the bike more nimble off road and on pavement.
Africa Twin Adventure Sports
AFRICA TWIN FEATURES
Designed for the most ambitious explorers, and loaded with features like a bigger fuel tank, more suspension travel, a larger skid plate, a flatter, more comfortable seat, wider footpegs and a taller windscreen. There's even a standard-equipment rear rack. Available with either a six-speed manual or Honda's revolutionary Automatic DCT transmission.
AFRICA TWIN HANDLEBAR
Another example of fitting premium equipment to the Africa Twin wherever we can, the aluminum handlebar is much lighter than a steel unit. The design tapers from a thinner diameter under your grips to a fatter section at the top clamp, and is fine-tuned for optimal flex and rigidity.
Tires and Wheels
AFRICA TWIN WHEELS
Real adventure bikes use spoked wheels because they better survive the dings and hits of off-road riding. The Africa Twin features a 21-inch front and an 18-inch rear for superior performance, especially when it comes to off-road riding.
Brakes
AFRICA TWIN BRAKES
With a pair of 310mm front disc brakes and a single 256mm disc in the rear, the Africa Twin offers up ample stopping power in all conditions
AFRICA TWIN CALIPERS
Four-Piston Calipers. Up front, the Africa Twin features twin four-piston brake calipers for powerful braking performance. The radial-mount design also helps make them stiffer, increasing brake feel and control.
Unicam Engine Design
AFRICA TWIN UNICAM
Honda's exclusive Unicam® engine design helps us give the Africa Twin a compact cylinder head for optimal engine placement. But the engine also benefits from superior performance, thanks to the entire cylinder-head layout. It's the best of both worlds!
Twin Intakes
AFRICA TWIN AIR-INTAKE
The Africa Twin uses a unique twin air-intake design with two vertical filtration elements. All that clean air helps the engine deliver excellent performance, even under prolonged operation in dusty conditions.
Comfort
AFRICA TWIN RALLY WINDSCREEN
Developed from our racing experience in the Dakar Rally, the Africa Twin's windscreen helps shield you from the wind and the elements, especially during long miles of high-speed touring. At lower speeds, the clear construction gives you better visibility off road. The Adventure Sports' windscreen is 3.1 inches taller for even more long-distance coverage.
AFRICA TWIN RIDING POSITION
Adventure riding is an active sport, and that means you need to be able to move around on your bike naturally and athletically. The Africa Twin is extremely narrow where you sit, and the peg-bar-seat triangle lets you move up and forward and far back as well, to enhance handling, especially under demanding trail conditions.
Adjustable Seat
AFRICA TWIN RIDERS SEAT
The Africa Twin offers an adjustable rider's seat. This makes reaching the ground easier, and also lets you fine-tune your riding position in respect to the footpeg and handlebar placement.
AFRICA TWIN BIAXIAL COUNTERBALANCE
By using counterbalancing elements on two axes, Honda's engineers can cancel out both primary and coupling vibrations from the engine. The result is that we can mount the engine solidly for superior strength and handling, yet you still get an extraordinarily smooth, vibration-free ride.
AFRICA TWIN HANDLING
AFRICA TWIN 43-Degree Steering Lock
With 43 degrees of steering lock both left and right, the Africa Twin provides excellent maneuverability on tight trails. This is one of the reasons the Africa Twin feels so much more nimble than many of the other bigger adventure bikes out there.
AFRICA TWIN SEMI-DOUBLE-CRADLE-FRAME
The Africa Twin's semi-double-cradle frame layout has been proven in countless Honda dirtbikes. In principle it's similar to the design we use on our CRF450R Rally bike—a machine that's designed to perform in the challenging Dakar rally and similar events.
AFRICA TWIN FRONT SUSPENSION
The Africa Twin uses a specially built inverted Showa fork with huge 45mm fork tubes and 9.1 inches of travel. It's fully adjustable for both compression and rebound damping. The Adventure Sports model offers 9.9 inches of travel.
AFRICA TWIN REAR SUSPENSION
Not only is the Africa Twin's rear suspension fully adjustable, it offers a 220mm stroke for 8.7 inches of rear-wheel travel. Even better, there's a special remote preload adjuster—you just turn a convenient knob, and you can compensate for varying loads like a passenger or full panniers. The Adventure Sports model offers 9.4 inches of travel.
AFRICA TWIN PRO-LINK REAR SUSPENSION
We worked hard to tuck the Africa Twin's Pro-Link® rear suspension linkage up away from harm. The rising-rate design resists bottoming, yet gives you a plush ride over small bumps.
Long-Travel Suspension
The Africa Twin doesn't just look like an adventure bike—it's the real deal. Exhibit A: Check out its long-travel suspension. The fork features huge 45mm tubes and 9.1 inches of travel, while the single-shock Pro-Link® rear suspension is also fully adjustable, with 8.7 inches of travel and a convenient remote preload adjustment. Our Adventure Sports version offers 9.9 inches of travel up front and 9.4 inches of travel in the rear.
Hollow Axle Shafts
The Africa Twin uses large-diameter hollow steel axles front and rear. They're super strong, durable, but also light: a combination which describes just about everything associated with this bike.
AFRICA TWIN SELECTABLE TORQUE CONTROL
The Africa Twin's throttle-by-wire system lets us offer Honda Selectable Torque Control (HSTC). You can dial in exactly the kind of power delivery you want for the conditions at hand. Honda Selectable Torque Control features seven settings for a wide range of conditions, from pavement to fast, loose fire roads to challenging singletrack. You can also turn it off.
AFRICA TWIN LOW CENTER OF GRAVITY
By locating heavy components like the battery as close to the bike's center of gravity as possible, and using a compact engine, the Africa Twin provides a superior platform for excellent handling.
Anti-Lock Brakes
The Africa Twin's Anti-lock Brake System (ABS) comes standard. Off-road riders will appreciate the fact that they can turn the ABS function off for the rear wheel in the dirt.
Transmission Choice
You pick: The Africa Twin and Africa Twin Adventure Sports are available with either our standard six-speed manual gearbox or Honda's exclusive automatic six-speed Dual-Clutch Transmission (DCT). Both transmissions are excellent choices, and both feature stout, strong steel gears inside—the only difference is who does the shifting.
Dry-Sump Engine
The Africa Twin's dry-sump engine design is the only way to go. The more compact sump increases ground clearance and eliminates the vulnerability of a conventional wet sump.
Water Pump
Can you see the Africa Twin's water pump? Trick question! It's tucked behind the right side cover, out of harm's way. There are no vulnerable hoses leading to it either, a weakness on some bikes. Driven by the balancer shaft, in case of a tip-over or in rocky sections, it's one less thing to worry about.
AFRICA TWIN 270-DEGREE-PHASE CRANK?
Most twins use a 180-degree crank. By phasing the Africa Twin's at 270 degrees, you get a unique power delivery that's easy to modulate, especially in terrain where traction is challenging.
AFRICA TWIN THROTTLE-BY-WIRE
Our throttle-by-wire system greatly expands the Africa Twin's versatility. First, you get seven levels of Honda Selectable Torque Control. Second, you can choose from four power delivery modes: Tour, Urban, Gravel, and a fourth that's user-programmable. First used on our RC213V-S, throttle-by-wire is an excellent example of how Honda's technology works for you.