Introducing the All-New Honda Talon
2019 HONDA TALON 1000 R/X
They're the sport side-by-sides you've been waiting for. The best-built, best-engineered vehicles in their class. Machines that take rider comfort, balanced performance and build quality to the next level. Full of technical innovation and infused with Honda DNA. The new Honda Talon 1000R and Talon 1000X, two of the most anticipated vehicles in the off-road world. From the minute you buckle in, they'll amaze you. Life is better—when you're experiencing a new Honda Talon.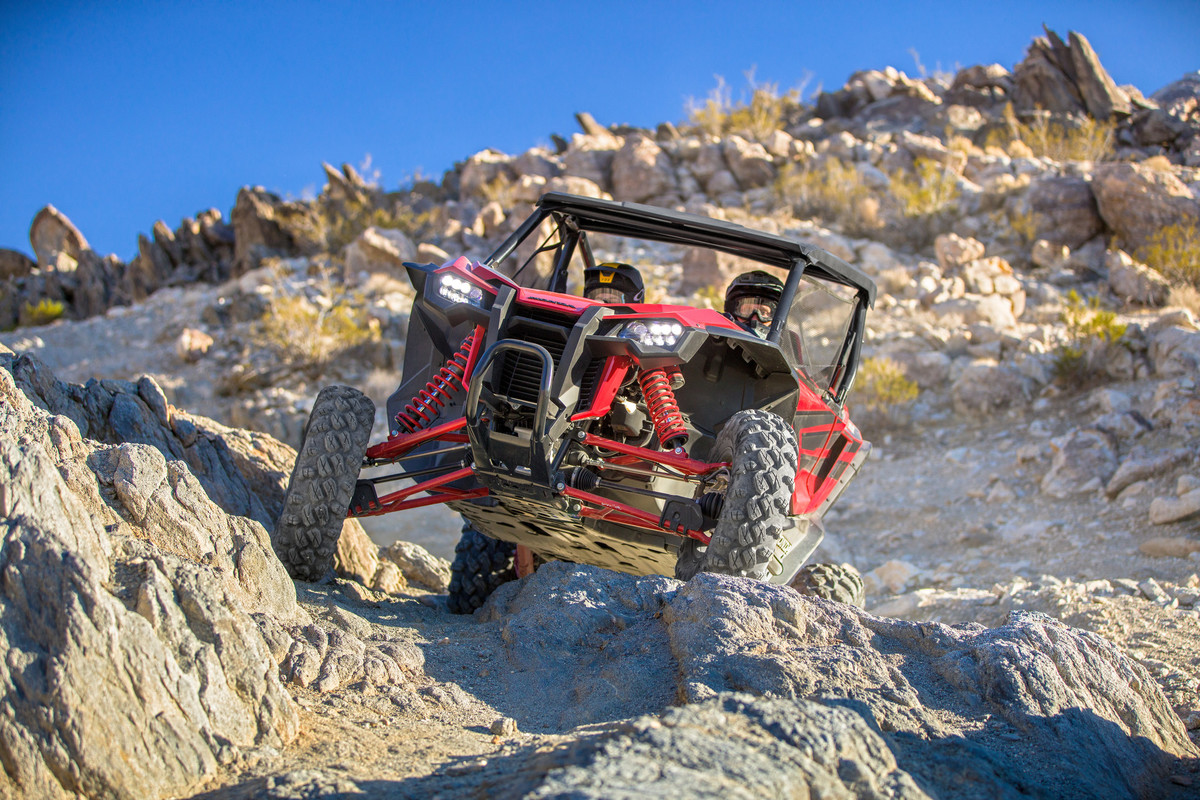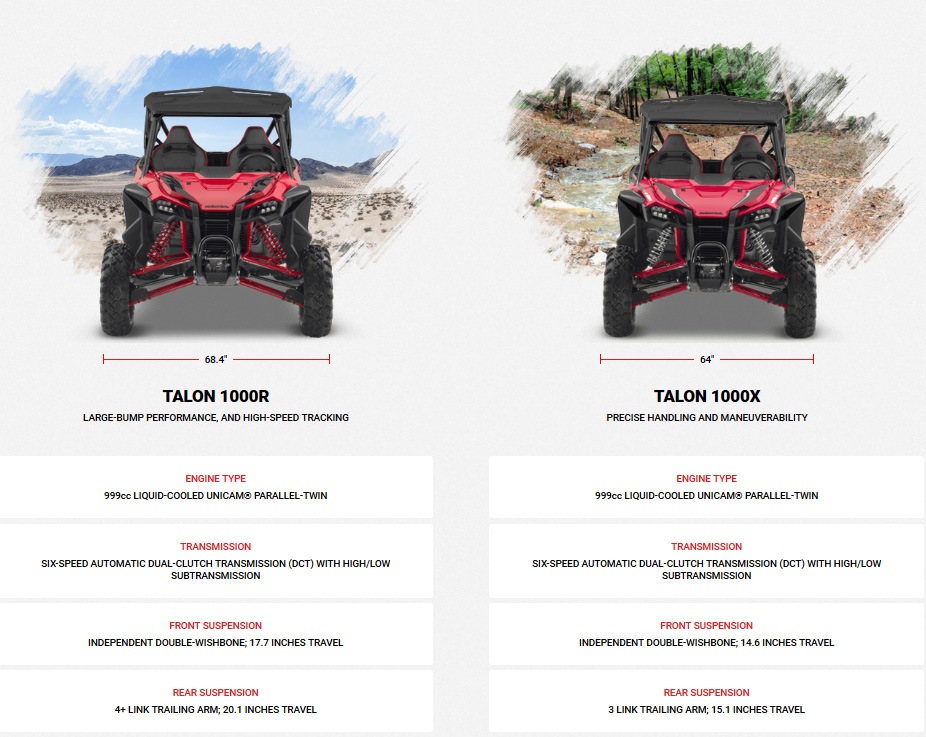 East to west, north to south, America's a big country. Which is why we're offering two models of our new Talon. Both share the same powerful, Talon-specific high-output engine, quick-shifting Automatic DCT Transmission, exclusive I-4WD technology package and all-new chassis. The Talon 1000R has a longer wheelbase, a wider vehicle track, and more suspension travel. It's a perfect match for riders who tackle rugged, high-speed terrain. The Talon 1000R is proof positive that life is better, side by side.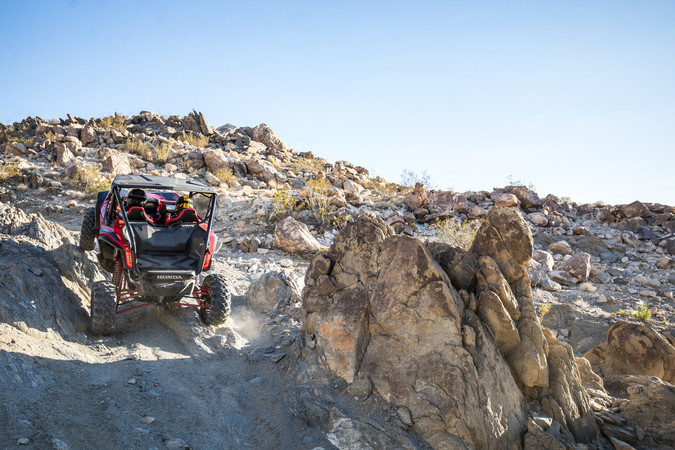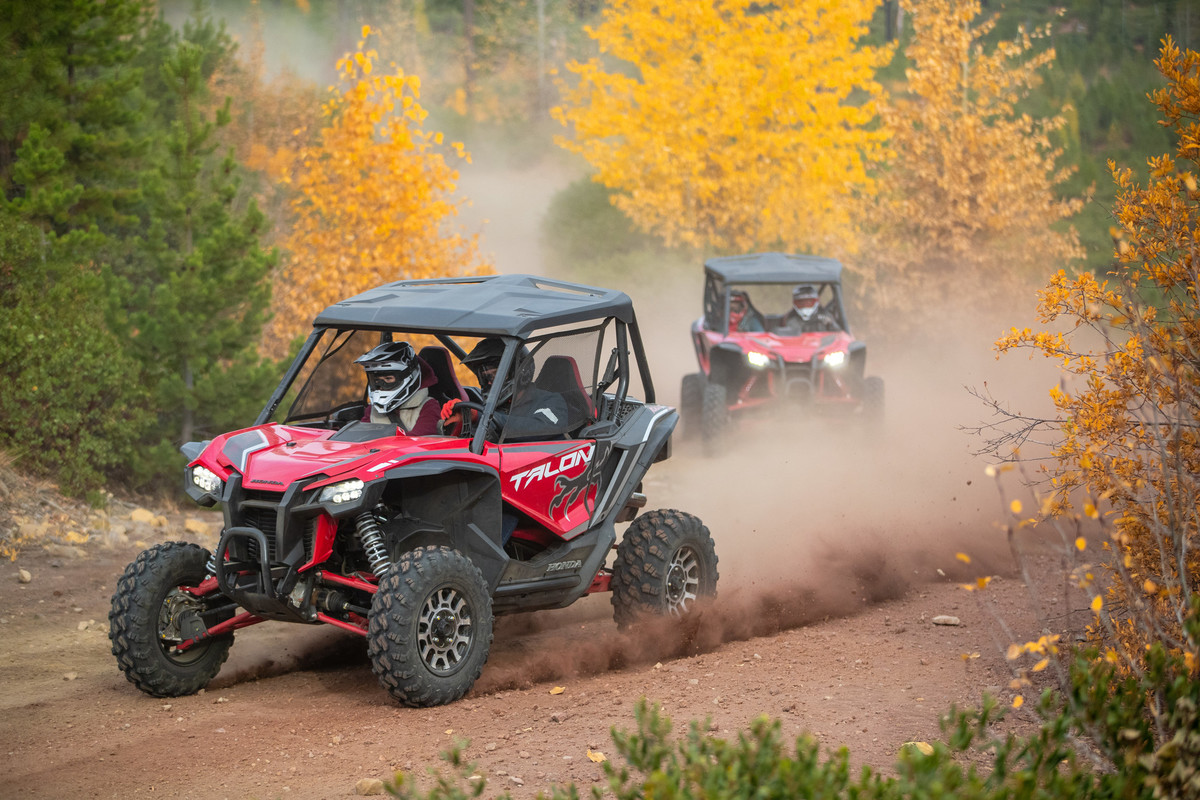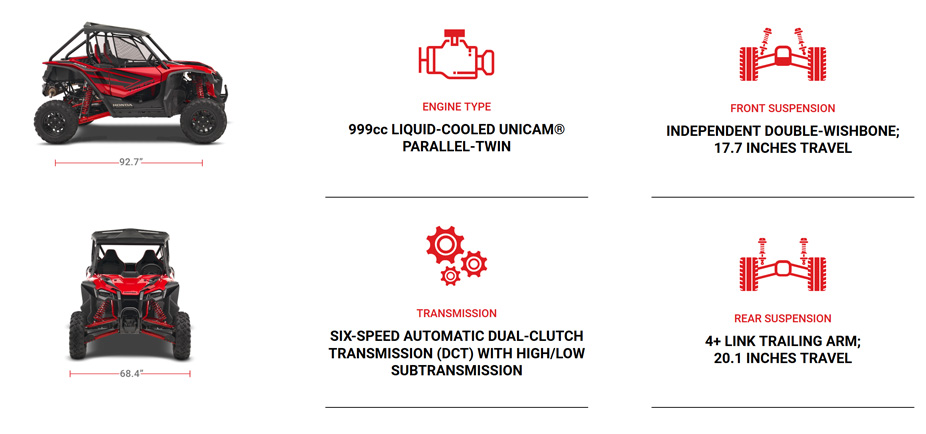 2019 Honda Talon
For decades, Honda has set the standard for sport-oriented dirt bikes with its CR and CRF lineups, and more recently the Pioneer family has introduced unmatched capability to the multipurpose side-by-side category whether it be the Pioneer 500 or Pioneer 700 / 700-4 model lineup to the Pioneer 1000 / 1000-5 model lineup. Now, Honda's all-new, highly anticipated Talon marries the two worlds, bringing a new level of off-road excitement, precision and quality to sport side-by-side driving. Drawing on countless hours of performance development in both two- and four-wheel design and racing, as well as automotive and motorcycle manufacturing know-how and safety expertise, the Talon pushes the envelope of what is possible in a production sport side-by-side.
Aware that a single offering would be a compromise for some conditions and driving styles, Honda has developed two versions of the Talon, each of which works across a broad array of conditions but specializes in a different area of the off-road spectrum. The two vehicles share 85% of their parts, including the entire 999cc parallel-twin engine and one-piece frame, but have wheelbases and suspension configurations that are designed to specialize in different applications. At 64.0 inches wide, the Talon 1000X is maneuverable and precise, whereas the 68.4 inch-wide Talon 1000R is appropriate for when bump absorption and stability are the priority. Both models function at a high level in a wide variety of terrain types, bringing a new level of control, style and refinement to a Sport side-by-side market that is hungry for innovation, reliability and an improved driving experience.
2019 Honda Talon Additional Data
2019 TALON 1000R Release Date: April 2019
2019 TALON 1000R Top Speed: 70+ MPH (exact number not confirmed but has been confirmed by Honda it is 70+ MPH)
2019 TALON 1000R Colors: Red, Pearl Green
2019 TALON 1000R Weight: 1,545 (curb)
2019 TALON 1000R Horsepower: 104 HP
2019 TALON 1000R Torque: TBA
2019 TALON 1000R Suspension (front): Double wishbone; 17.7 in. travel, Fox Podium 2.5 shocks with Quick Switch 3
2019 TALON 1000R Suspension (rear): 4+ Link trailing arm; 20.1 in. travel, Fox Podium 2.5 shocks with Quick Switch 3
2019 TALON 1000R Ground Clearance: 13.0 in.
TALON 1000R Colors:
Red with red suspension accents
Green/Silver with silver suspension accents
TALON 1000R Differentiating Features:
Double-wishbone front suspension, Fox Podium 2.5 shocks with Quick Switch 3, 17.7 inches of travel
4+ Link trailing-arm rear suspension with toe link, Fox Podium 2.5 shocks with Quick Switch 3, 20.1 inches of travel
TALON 1000X
Excelling in situations calling for precise maneuverability, the Talon X features suspension design and components are tuned to allow the tires to grip the ground for maximum traction and provide a plush ride. Those who love conquering challenging sections and climbs need look no further.
About Honda Talon
Designed in Honda R&D America's Torrance, California, office, the Talon's body style represents the purest blending of function and form, an advanced, performance-based look that exudes capability. Inspired by the CRF Performance line of dirt bikes, the vehicle is dominated by a high bodyline and a body side that has a continuous flow from front to rear. The design lends the look of a serious machine, but it also serves the practical purpose of providing lateral support to the driver and passenger, for a feeling of safety and security inside the vehicle. A pronounced, strong stance was created by placing the four wheels at the extreme corners of the vehicle, and aggressive fenders and wheel wells appear eager for speed while effectively keeping mud and debris off the vehicle and its occupants.
The Talon's silhouette is low, and minimization of bulk was a focus during development. (Approximately 25% of the vehicle's mass was shed during the design evolution.) Knowing the rigors through which customers would put the Talon, designers stressed efficient engine cooling, with motorcycle-inspired shrouds and four side vents, all of which are unique to the side-by-side world. The roof, which comes standard on the Talon, incorporates a front lip to keep moisture from reaching the interior (even when braking in rainy conditions), and a horizontal pass-through slit both creates a functional spoiler (providing downforce at higher speeds) and allows appropriate aerodynamics when the vehicle is towed on a trailer, whether it's facing forward or backward.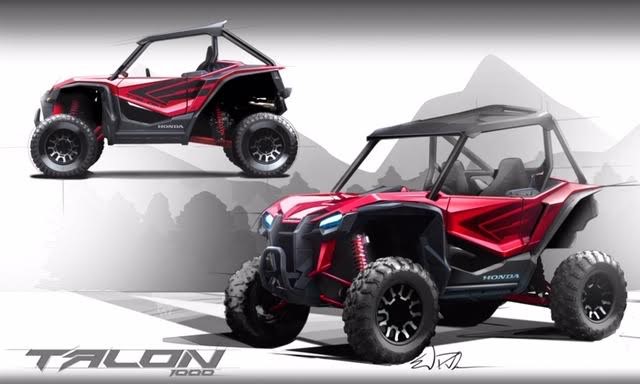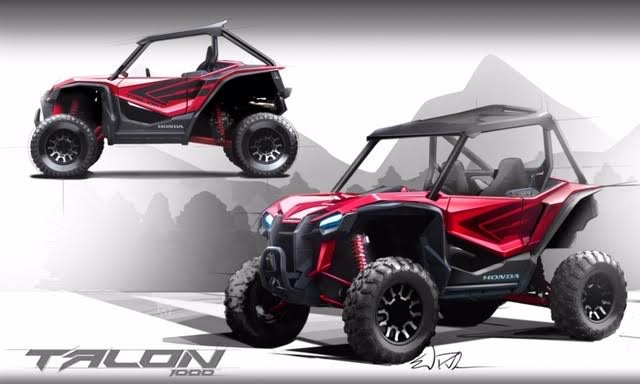 Honda Talon LED lights
The headlights are LED for long life and bright, uniform illumination, and feature high and low beam. The Talon comes standard with full side nets that feature rigidly mounted buckles to make latching simple and quick, even with one hand. For a positive owner experience, the lids on the hood, bed cover, battery cover, and fuse box can all be opened without tools, simplifying checks and service.
Inside, the design target was to provide a comfortable driving experience for body types from the fifth to the 95th percentile. The sport seats are wide and weather-resistant, and the driver side is adjustable via an automobile-grade slide mechanism with high-grade bearings. They also have three-point seatbelts and come ready for a four-point belt system, for racing. A full center console separates the driver and passenger compartments for a high-tech, cockpit-like feel, but the dash has a symmetrical layout that allows easy viewing of information by not just the driver, but the passenger as well. Colorful accents are an indicator of the level of thought put into the interior's design.
The steering wheel is infinitely adjustable for tilt (electric power steering is standard). The passenger gets a door armrest and grab handle, along with a rattle-free,"handlebar," complete with a quick-release adjustment lever that allows it to be easily and quickly telescoped in and out to accommodate varying physiques. There's also a center foot rest area for relaxed riding comfort, and floor drains simplify the process of washing the vehicle. A 12V accessory adapter is standard, and even the cup holders are designed to securely hold containers of varying diameters and will accept most insulated tumblers. The bed is large enough to accept a large cooler, and six integrated tie-down points allow items to be secured for aggressive driving. A flag mount is incorporated into the rollover protection system.
The lightweight plastic body panels are coated with automotive-grade paint for a long-lasting, top-quality look. The 1000X is available in Red/Gray with gray suspension accents and Gray/Blue with silver suspension accents, and the Talon 1000R is offered in Red with gray accents and Green silver accents.
Both Talon models feature a frame and suspension components that were engineered and developed at Honda R&D America's Raymond, Ohio, campus, for a plush ride, maximum ground clearance and precise steering response. A 44% front-end weight bias is ideal for handling and a balanced feel as well as automotive-industry design concepts that bring a new level of engineering to the category. The frame itself is identical in both models, and whereas the Talon 1000X's suspension and wheelbase are intended to emphasize maneuverability and precise handling, the Talon 1000R's are tilted more toward high-speed tracking and large bump absorption; both are suitable for a broad range of terrain types.
Talon R Frame
The all-new, one-piece frame was designed and developed incorporating Honda's vast off-road design knowledge to achieve optimum handling properties by maintaining appropriate levels of stiffness and compliance to retain consistent geometry even when pushed under the hardest loads. As a result, the vehicle behaves and responds predictability for a more controlled, confidence-inspiring ride. In addition, the frame undergoes a state-of-the-art process that includes an e-coat dip, oven baking, powdercoat spraying, and another oven bake, all of which guarantee the quality of the paint and ensure the rust-prevention needs are met.
TALON 1000R Suspension
The front suspension is a double-wishbone design with a balance of rigidity and tuned flex for maximum precision. The 1000X has 14.6 inches of front-wheel travel; the 3 Link rear system has a high-positioned trailing arm for improved ground clearance and provides 15.1 inches of travel.
The Talon 1000R's double-wishbone front suspension provides 17.7 inches of front-wheel travel; at the rear, a 4+ Link suspension design limits toe change to only 0.3 degrees through the entire 20.1 inches of stroke, for excellent alignment control.
<h2
2019 Honda TALON 1000R Shocks / Suspension | FOX
Both Talon models are equipped with Fox Podium Quick Switch 3 shocks, developed and tuned through rigorous testing (much of it with professional racers) and in extreme terrain. Each model's suspension is designed with its specific performance mission in mind.
The Talon 1000X uses 2.0 inch-body shocks for quick response, and the Talon 1000R is outfitted with 2.5 inch-body shocks for minimal fade during aggressive driving, along with robust 7/8 inch rods (vs. 5/8 inches) to handle the high loads of sport side-by-side use. The shocks use dual-rate springs at each wheel for a progressive suspension feel, with plushness at the beginning of the stroke and strong holdup and stability near the end of the stroke.
Each shock incorporates the user-friendly QS3 adjustment system for tool-less selection between three significantly different damping settings (comfort, sport, and aggressive/loaded). This simplified tuning system encourages adjustment for changing conditions and also allows a quick visual check to ensure all ends are running the same settings.
TALON 1000R Tires
The front 28x 9-15 front and 28×11-15 tires are specific to the Talon and the result of a joint effort between Honda and Maxxis to develop ideal traction, damping, feel and wear characteristics.
TALON 1000R Brakes
In the Talon, endless well-thought-out details create a satisfying driving experience previously unavailable to sport side-by-side enthusiasts, and that approach extends to the braking system. Bringing a higher level of braking performance to the sport side-by-side market, particularly with regards to vehicle stability under braking, the Talon utilizes 34mm twin-piston front calipers and 34mm single-piston rear calipers, with 250mm brake rotors at all corners. The system uses low-expansion brake hoses and a 17mm master cylinder, resulting in precise braking feel so that drivers can effectively modulate force to suit the conditions.
The brake pads feature a new compound developed to achieve performance-level friction and feel, along with excellent wear life. Brake noise is reduced through the placement of rubber shims between the brake pads and calipers/pistons. Even the pedal was given careful consideration, resulting in a trapezoid shape and a position that's 4.3 inches to the side of and 1.3 inches back from the accelerator pedal, for seamless transitioning between the foot controls.
TALON 1000R I-4WD Technology
Honda's I-4WD, introduced on the Pioneer 1000 LE, is the powersports industry's first and only off-road brake traction control system (BTCS), and it has been specifically adapted to sport side-by-side use for the Talon. The system manages the amount of slip between left and right front wheels, applying torque to the wheel with greater grip. The result is excellent traction and tracking performance in tough off-road conditions, with reduced steer effort and kickback compared to a standard differential lock.
The system also incorporates an Electronic Brakeforce Distribution system (EBD), which strategically applies braking force to optimize stability under braking, minimizing rear-chassis lift when in two-wheel drive.To simplify re-starting after stop on ascents, the driver has the option of pressing a Hill Start Assist button (HSA) on the dash, thereby temporarily holding the vehicle in place without needing to apply pressure on the brake pedal. As a result, more mental bandwidth can be dedicated to effectively modulating the throttle to resume motion. As a separate feature, when the driver brakes aggressively, the vehicle hold gears longer for real engine braking.
TALON 1000R Protection
The Talon comes with integrated, injection-molded skid plates to protect components and help the vehicle glide off of obstacles. The rear skid plate has labeled access holes to the tow hook and engine-drain bolts so that removal of the plate isn't necessary during oil changes.
The driveshaft boots, traditionally components that are susceptible to damage in off-road driving, are well-protected on the Talon, as outboard guards provide maximum coverage, even during turning and through the full range of suspension travel, whereas inboard boots are positioned behind the suspension A-arms.
A number of protective parts are available as Honda Accessories, including a choice of aluminum or steel front and rear bumpers, high-molecular-weight polyethylene front and rear A-arm guards, trailing-arm guards, frame and skid plates, steel nerf bars and floor mats.
2019 TALON 1000 R Engine / Drivetrain
Both Talon versions share the same 999cc four-valve Unicam® parallel-twin engine, a performance-tuned version of the platform from the durable Pioneer 1000 multipurpose side-by-side and CRF1000L Africa Twin adventure motorcycle. Developed in Japan by Honda Motor, and produced at the Kumamoto plant, the water-cooled engine features a 270 degree cross-plane crankshaft.
Bore-and-stroke specifications are an over-square 92 x 75.2mm, and a s"piny sleeve" cylinder has small protrusions on its outer surface, enhancing the adhesion between the steel sleeve and the aluminum barrel. This leads to improved cooling and a reduction in the bore distortion commonly caused by the dissimilar expansion rates of the two materials, so blow-by gas and oil consumption are minimized. An all-new cylinder head delivers increased performance.
The engine is mounted longitudinally in the frame, eliminating unnecessary right angles in the driveline so that an efficient transfer of power to the rear wheels is possible, resulting in strong acceleration. The Talon can be switched between two-wheel-drive or four-wheel-drive on the fly, and even during situations of wheel spin, via a dash-mounted switch.
To reduce engine vibration transmitted to the chassis, yet also withstand the abuse of spirited driving, the engine is attached to the frame utilizing four rubber mounts.
TALON 1000R Valve Train
Utilizing the latest simulation engineering software, a new intake-port shape has been developed for improved airflow at the point of cylinder entry, resulting in increases in both power and fuel economy. Coupled with larger fuel-injection nozzles that each flow 18% more fuel, as well as a throttle body bore that is 9% larger, the reliable system produces performance-tuned power levels.
To minimize reciprocating mass in the cylinder head, the engine employs an arrangement similar to that of the CRF450R motocrosser, with a Unicam® valve-train configuration and four valves per cylinder. Roller rocker arms have friction-reducing bearings where they contact their own cam lobes. Valve adjustment is via a shim-under-bucket arrangement.
The new cam profile allows increased valve lift and duration; intake lift is increased by 2.5mm, with 25 degrees longer duration, while exhaust lift is increased by 2.2mm, with duration a full 45 degrees longer.
TALON 1000R Intake / Exhaust
The engine intake scoop is positioned behind the passenger door for effective reduction of dust reaching the air filter, allowing stronger performance, improved durability and reduced maintenance.
The engine sound has been carefully considered to deliver a satisfying driving experience. Three resonators—each tuned for a different frequency—deliver a strong, exciting air-intake sound, and a connector between the twin exhaust headers tunes the exhaust note for a richer tone.
TALON 1000R Lubrication
The dry-sump engine design pulls oil from below the crank and into an integrated tank, and is engineered to circulate oil at a consistent rate even during aggressive cornering, jumping, climbing, descending and in rough conditions. In addition to the valve-train oil injectors, the new engine incorporates two multi-point oil jets, one beneath each piston, to spray four-stream jets of oil. This improves power and durability by lowering piston temperatures.
TALON 1000R Cooling
To keep the engine operating within its optimum temperature range, the new cooling system has been tested and proven in the hottest, harshest conditions and uses the highest-capacity cooling fan and radiator of any Honda ATV or side-by-side; the radiator is 1.1 inches thick, and its face measures 15.7 inches by 14.2 inches. Increasing efficiency at the low speeds common in technical sport side-by-side driving, a 13.4 inch, eight-blade fan pulls air through the radiator.
TALON 1000R Driveshaft
The Talon is ready for the grueling conditions typical of sport side-by-side driving, with a largest-in-class driveshaft and robust U-Joints for maximum impact survival and torsional strength. The driveshaft components have been positioned up high in the chassis, maximizing ground clearance and reducing susceptibility to damage. A first in a Honda powersports product, a spiral bevel gear is used at the rear, for reduced whine compared to a straight-cut gear.
2019 TALON 1000 R Dual Clutch Transmission / DCT
Honda debuted the Dual Clutch Transmission (DCT) for production powersports use on the 2010 VFR1200F sport-touring motorcycle, and while similar systems can be found in a number of high-performance sports cars, DCT remains a Honda exclusive in motorcycles, ATVs, and side-by-sides.
As the name indicates, DCT uses two clutches that are controlled by sophisticated electronics and hydraulics. One clutch, which rides on a hollow outer shaft, controls odd-numbered gear sets (1, 3, 5); the other clutch rides on an inner shaft and controls even-numbered gear sets (2, 4, 6). Multiple gears are engaged simultaneously so that the transmission is constantly prepared for the next shift. Data, collected by a series of sensors, is processed by the ECU, which uses an advanced algorithm to determine when the shift-control motor should electronically trigger gear-changes. At those moments, one clutch disengages and the other engages, resulting in shifts that are quick, smooth and seamless. A geared transmission that shifts automatically, DCT enables a direct, connected feeling between the foot pedal and the rear wheels, as well as an efficient transfer of power. It also boasts durability, flexibility, true engine braking, and quick, smooth gear changes.
he Talon"s six-speed DCT offers two fully automatic modes, Drive and Sport. The former allows the engine to operate at a lower rpm, for relaxed driving or in situations where reducing load on the drivetrain results in smoother driving over rough terrain, and the latter holds gears longer, shifting up or down at higher rpm for more aggressive driving. There"s also a Manual mode that gives the driver full control over the transmission, enabling him or her to change gears up or down via a pair of easily reachable, steering-wheel-mounted paddles, for heads-up driving. Even when driving in either of the two automatic modes, the system can be overridden via use of these paddles, with the transmission returning to automatic mode several seconds after each shift.
The Talon"s DCT has high oil flow to the clutch to minimize heat, and the dash has a clutch-temperature indicator. The Talon also has a sub-transmission that provides high and low transmission ranges, effectively doubling the number of gears. During acceleration, the Talon"s DCT provides the visceral and audible thrill of running through the gears with a sport-oriented feel and sound, no matter the selected mode. In addition, the Ignition Feedback Control system allows for quick torque reduction during shifting, for fast, precise gear changes.
Even the reverse gear has been optimized for Sport use for easily exiting from tight situations.
Engine
Engine Type
999cc liquid-cooled Unicam® OHC longitudinally mounted parallel-twin four-stroke; four valves per cylinder
Bore and Stroke
92mm x 75.1mm
Compression Ratio
10:1
Induction
Fuel Injection (PGM-FI), 46mm throttle body
Ignition
Full-transistorized with electronic advance
Drive Train
Transmission
Six-speed automatic Dual-Clutch Transmission (DCT) with high/low subtransmission. Two drive modes with 2WD and I-4WD. Three shift modes (standard, sport, manual w/ paddle shifters).
Driveline
Direct front and rear driveshafts
Chassis/
Suspension/
Brakes
Front Suspension
Independent double-wishbone; 17.7 inches travel
Rear Suspension
4+ link trailing arm; 20.1 inches travel
Front Brake
Dual 250mm hydraulic discs
Rear Brake
Dual 250mm hydraulic discs
Front Tires
28 x 9-15
Rear Tires
28 x 11-15
Dimensions
Length
123.9 inches
Width
68.4 inches
Height
75.6 inches
Wheelbase
92.7 inches
Bed Capacity
299 pounds
Seat Height
28.3 inches
Ground Clearance
13.0 inches
Turning Radius
21.3 feet
Curb Weight
1545 pounds for 49 states – Includes all standard equipment, required fluids and full tank of fuel.
Curb Weight
1548 pounds for CA models – Includes all standard equipment, required fluids and full tank of fuel.
Fuel Capacity
7.3 gallons, including 1.1-gallon reserve
Other
Safety
Recommended for drivers 16 years of age and older.
Available Colors
Pearl Red, Pearl Green
Model ID
SXS10S2R
Factory Warranty Information
Duration
One Year
Description
Transferable limited warranty; extended coverage available with a Honda Protection Plan